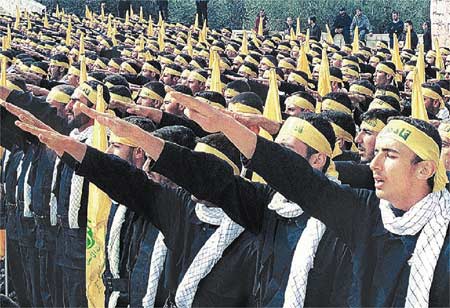 I am standing in south central Illinois. On the driveway of my in-law's home. The weather is beautiful, low 70s. There is a cornfield to my right and the proto-citizens blissfully engaged in creating the largest chalk drawing on the planet.
Life is good.
But wait, I tap into the global field that is the internet only to read this;
The arrests were in addition to those of the two occupants of the blazing
car at Glasgow Airport. A witness to the attack said on BBC television that one
of the car's occupants had been ablaze from head to foot, and as he struggled
with the police, "was throwing punches and shouting 'Allah, Allah.' "

In case you've been asleep under a rock, we are at war. We (the civilized world) are locked in a very real, very dangerous conflict with forces which seek to drag us back to a culture trapped in the past.
We are at war with the three I's - ignorance, intolerance and ideology. The progenitors of these three I's are not a unified state - but rather a collection of zealots who despair the loss of their stranglehold over the beliefs of their stagnant philosophy. These zealots are represented by militant Islam.
I am sad to arrive at that realization. My civilized perspective conlficts with the reality unfolding before me. Why can't we simply reach a compromise and dialog with the force arrayed against us?
To be at war with a nation represents a difference of politics or resources, a primitive conflict - but one which is understandable. The conflicts in the past century were about political systems and the burgeoning influence of states. Once these nations encountered the edges of each other's spheres of influence, only conflict or cooperation could result. The British and the newly formed United States faced this quandry in 1812.
This current conflict is more challenging. It is being waged assymetrically against our whole society. The civilized world relies on order, trust and law. It's very network is fragile and easily disrupted. This is because it relies on the actions of its populace more than the actions of a government, church or other hegemonic body.
This is why driving a blazing Jeep Cherokee into Glasgow terminal is more devasting than destroying an armored brigade in Iraq. The civilized world relies on the power of commerce, the free exchange of goods and ideas and the free movement of its people.
Nothing can be accomplished if a society is preoccupied with its safety. You will not tackle social injustice, environmental or health issues if one can not safely travel to and from points within your own country.
For those who continue to deny the nature of this war and its attendent enemies (militant Islam, Islamofacism, the three I's), they will be condemned to be its victims and contibutors to defeat.